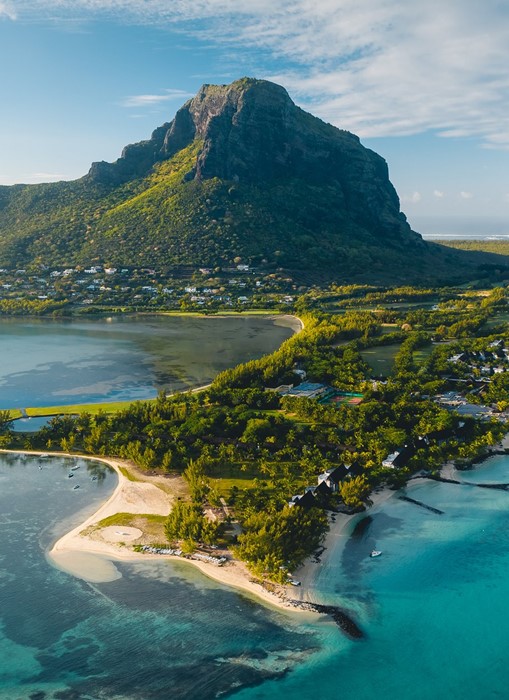 19 May 2023 - Sustainability
Dinarobin Beachcomber, Paradis Beachcomber and Beachcomber House achieve EarthCheck Gold certification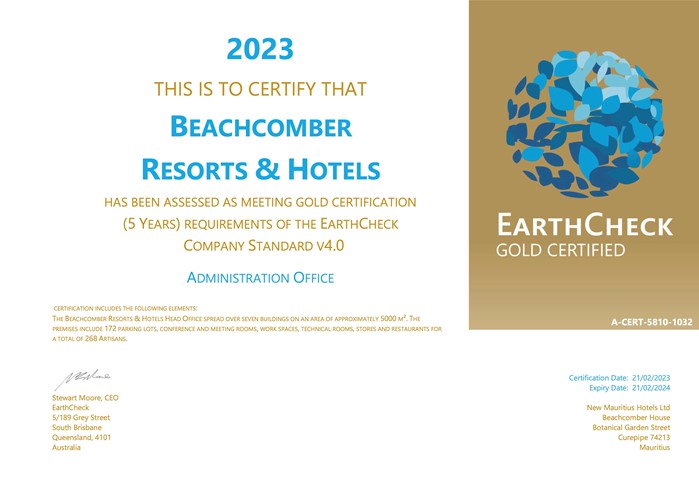 Beachcomber Resorts & Hotels has received the EarthCheck Gold certification for Paradis Beachcomber Golf Resort & Spa, Dinarobin Beachcomber Golf Resort & Spa and Beachcomber House (Group Head Office). This prestigious environmental certification is one of the international programme's highest distinctions. It recognises the Group's sustainable development initiatives and performance while confirming its growing commitment after five consecutive years of auditing. This makes Beachcomber the very first hotel group in Mauritius to achieve EarthCheck Gold status.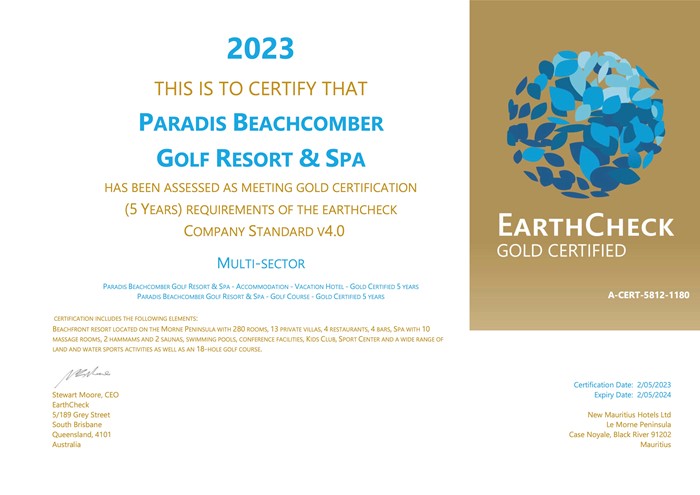 EarthCheck is a globally recognised environmental and social benchmarking and certification programme that uses some 260 criteria to assess a hotel's approach to the environment and community and cultural inclusion through annual independent audits. The Gold certification awarded to three Beachcomber properties embodies the culmination of the Group's efforts since 2015.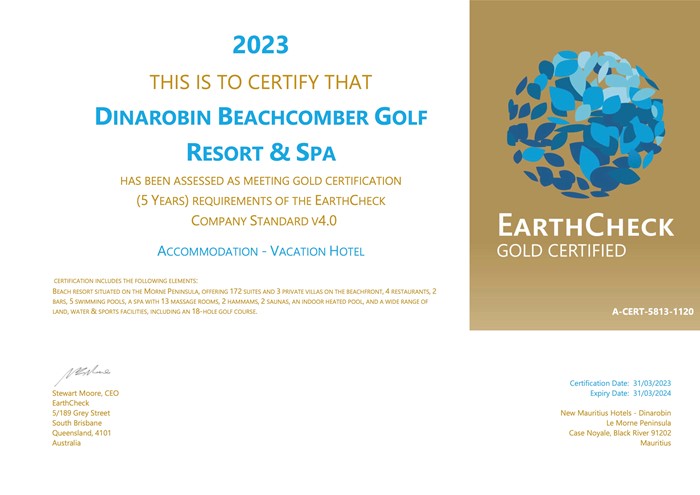 "This is the very first time that a hotel group in Mauritius has achieved EarthCheck Gold certification. We are immensely proud of this achievement. Beachcomber is a pioneer in environmental matters. Our commitment to EarthCheck has enabled us to reach several milestones and to assess the road which lies ahead," says the Beachcomber Group's CEO, Gilbert Espitalier-Noël. "I am also very pleased with the great work done by the Green Teams and Artisans of each of our properties. Today, I am pleasantly surprised to see that this commitment reaches out beyond the workplace to the family lives of our team members."


The EarthCheck Gold certification enables the Group to further its environmental approach. "It encourages us in the sustainable development approach we have adopted since June 1999 with the setting up of Fondation Espoir Développement Beachcomber (FED). This commitment has been further strengthened with the implementation of environmentally friendly technical processes. The EarthCheck certification process has enabled us to better articulate our actions and integrate environmental concerns into our development. The launch of our Environmental and Social Charter with 52 commitments in 2019 has allowed us to organise our objectives around eight pillars. We will continue to strengthen this sustainable development approach with various new initiatives in the coming months. I would like to extend my heartfelt thanks to our hotel and Head Office teams. It is a pleasure and a source of pride to note their strong involvement in achieving our goals," says the Chief Risk & Compliance Officer, Geraldine Koenig.


Beachcomber's approach to sustainability is reflected in initiatives that have yielded tangible results. These include: 100% recycled water for watering the gardens; two hotels that are completely supplied with water from desalination plants; a rainwater harvesting programme at the Head Office and in 3 hotels; 4 of the 8 Beachcomber hotels equipped with photovoltaic panels with the equivalent of up to 7% green energy production; zero single-use plastic; recycling of over 40% of waste; composting of organic waste; 45 beehives in hotel gardens as part of the "Honey from our Gardens" biodiversity project; regular environmental education for Artisans; strong community involvement in the regions where Beachcomber hotels are located through FED; and supplier involvement to reduce the environmental impact of the supply chain.


EarthCheck's CEO, Stewart Moore commended Beachcomber for its commitment and leadership. "This certification highlights the strong involvement, passion and commitment of the Group's management. None of this could have been possible without their mobilisation and efforts," he says.


Beachcomber is aiming to achieve EarthCheck Gold certification for its whole collection of hotels in Mauritius by 2024. Royal Palm Beachcomber Luxury, Mauricia Beachcomber, Canonnier Beachcomber, Trou aux Biches Beachcomber, Victoria Beachcomber and Shandrani Beachcomber are in their fourth and final year of Silver certification. They will be audited for Gold certification at the end of 2023. This should also translate into a reduction of our carbon footprint with improved energy consumption management and waste recycling rate, among others.