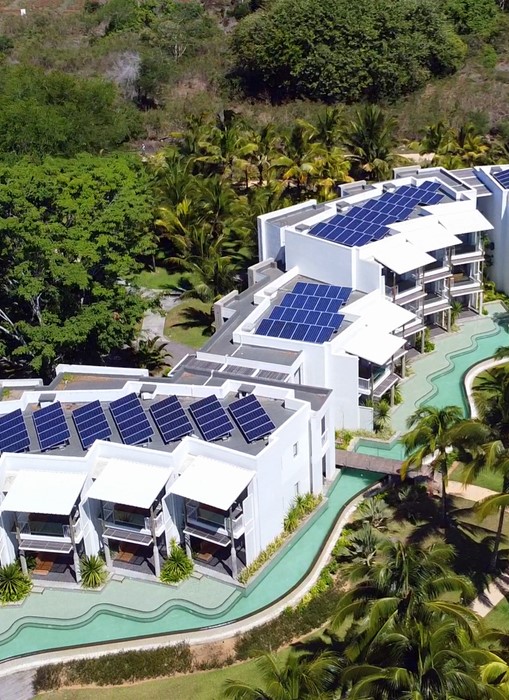 08 April 2022 - Sustainability
Victoria Beachcomber obtient la certification The Pledge on Food Waste
Victoria Beachcomber Resort & Spa franchit une étape décisive dans son engagement contre le gaspillage alimentaire. L'hôtel obtient la certification The Pledge on Food Waste (Silver level), avec une note remarquable de 88 %. Au terme d'un audit de ses performances, l'établissement du Groupe Beachcomber se classe parmi les neuf premiers hôtels à Maurice à recevoir cette prestigieuse marque de reconnaissance de la démarche des établissements hôteliers à agir contre le gaspillage des aliments. La remise officielle de la certification se tient ce vendredi 8 avril.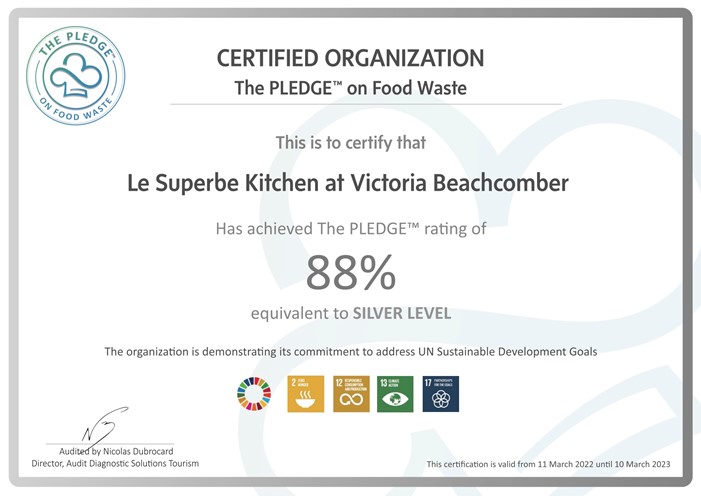 The Pledge on Food Waste a été initié à Maurice en 2021 par Business Mauritius dans le cadre de son projet SigneNatir, pacte environnemental par le biais duquel, les entreprises s'engagent à accélérer leur transition écologique. L'accréditation porte sur 95 critères d'évaluation, catégorisés sous sept champs d'action incluant : la mise en œuvre des indicateurs de suivi, le stockage, la conservation et la manipulation des aliments avant la cuisson, la formation des équipes, la sensibilisation des clients, et les possibilités de redistribution.

Au Victoria Beachcomber, la certification The Pledge on Food Waste (Silver level) marque l'aboutissement d'une démarche collective de lutte contre le gaspillage de nourriture mise en œuvre par le Food Lovers Committee, conduit par le binôme Kaleivani Maureemootoo, Food Safety Coordinator et Jean-Luc Laurent, Executive Sous-Chef. Le point de départ a été le déploiement d'un exercice d'audit pour déterminer les sources de gaspillage. Cet état des lieux a permis de définir et de mettre en place des actions en cuisine, d'initier des programmes de formation pour les artisans, et de sensibiliser les clients. A l'hôtel, l'initiative The Pledge on Food Waste a déjà permis une réduction de 40% les aliments gaspillés par couvert.

« Ce projet de certification nous a permis de mieux cerner les sources de  gaspillage  dans le processus, partant de la production, la mise en place, et la consommation de mets par nos clients. Et de là définir les moyens d'agir, que ce soit la réduction de quantités utilisées au départ ou des sources de recyclage adéquates, de même qu'une meilleure conscientisation de nos artisans et des clients. C'est un projet qui a demandé une grosse implication des équipes et je profite pour les remercier chaleureusement de leur engagement dans notre démarche éco-responsable»,  déclare Geraldine Koenig, Chief Risk & Compliance Officer de Beachcomber Resorts & Hotels.